Johns Creek Forsyth County Georgia USA
"Urbanization increases the variety and amount of pollutants carried into our nation's waters. In urban and suburban areas, much of the land surface is covered by buildings, pavement and compacted landscapes. These surfaces do not allow rain and snow melt to soak into the ground which greatly increases the volume and velocity of stormwater runoff. In addition to these habitat-destroying impacts, pollutants from urban runoff include:

Sediment - Soils
Oil, grease and toxic chemicals from motor vehicles
Pesticides and nutrients from lawns and gardens
Viruses, bacteria and nutrients from pet waste and failing septic systems
Road salts
Heavy metals from roof shingles, motor vehicles and other sources
Thermal pollution from impervious surfaces such as streets and rooftops
These pollutants can harm fish and wildlife populations, kill native vegetation, foul drinking water, and make recreational areas unsafe and unpleasant." Some text from the EPA.
---
Rivers Alive Cleanup
The cleanup is scheduled for year round participation. You can clean the creek anytime of the year and get credit. Just email us the details.
Since the creek travels through subdivisions on private property the cleanup efforts are being directed to property owners along the creek.
Click here to see a map of the section of Johns Creek where the cleanup is occurring.
If you live along the creek or want to help contact us by clicking here.
---
Follow these guidelines when working in the creek:
Get permission to work the creek when it is on someone else's property. If in doubt ask us and we will help determine if you can access the creek at that location. Much of the creek is on private property so be sure before you enter the creek.
Debris must be disposed of properly. Most plain garbage can be disposed of through your normal garbage pickup. Larger items require trips to the land fill. If you need advice or help ask via email and someone will assist you.
Be careful and have a partner. Thousands of creekkeepers have no accidents so try to be one of them. Safety is your first priority when working in the creek. The sponsors of this event, the web site owners or Rivers Alive are not responsible for accidents and are not encouraging you to do dangerous activities. Some river debris can be dangerous like broken glass and metal pieces. Think safety first. Wear heavy duty shoes and use work gloves. Get help if needed.
Saturday
July 20th 2019
Welcome


What is the Rivers Alive Annual Cleanup?

Rivers Alive is Georgia's annual volunteer waterway cleanup event that targets all waterways in the State including streams, rivers, lakes, beaches, and wetlands. The mission of Rivers Alive is to create awareness of and involvement in the preservation of Georgia's water resources.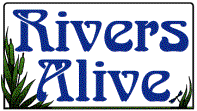 For the residents of Brookwood, Bridle Ridge, Deer Lake and Raskarity subdivisions in Forsyth County who volunteer and keep the creek under year round observation.
To learn more about creek cleanups
visit Rivers Alive.
Here are some other links that relate to creeks.
Georgia Environmental Protection Division
Natural Resources Conservation Service
For More Information about Forsyth County Georgia visit
www.ForsythCounty.com
We were given an award for sponsorship
by Rivers Alive in 2009.
copyright
1997- 2017
Creekkeeper.org
No person information is collected and the site is offered as is with no warranty. It just is information to help you clean a creek.